Coming up at Fresno Central.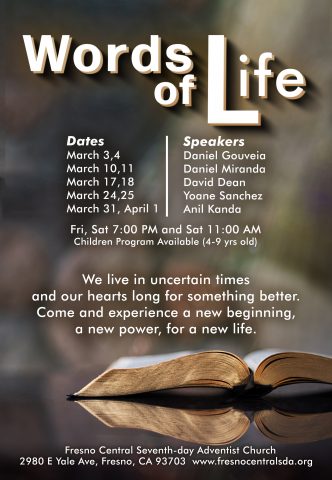 Words of Life Evangelistic series coming up:
We live in uncertain times and our hearts long for something else, something better.
Is there more to life than work, stress, financial instability, broken relationships, suffering and a grave at the end?
Is there hope for a society that is getting so dark and morally corrupt?
In this series of meetings gifted speakers will help you find in the words of the Bible new answers that will give you hope and meaning beyond your wildest dreams!
Come and experience a new beginning, receive new inspiration and enjoy new power for a new life.
Dates
March 3,4
March 10,11
March 17,18
March 24,25
March 31, April 1
Speakers
Daniel Gouveia
Daniel Miranda
David Dean
Yoane Sanchez
Anil Kanda
Friday 7:00 pm, Saturday 11:00 am and 7:00 pm.
 Fridays refreshments at 6:30 pm