Youth Rush
Central California Youth Rush Literature Evangelism program is still accepting applications for young people 16 and up.
Come experience God on the front lines and see Him use you in powerful ways to reach people for the kingdom!
Youth Rush begins June 1 and runs through August 16.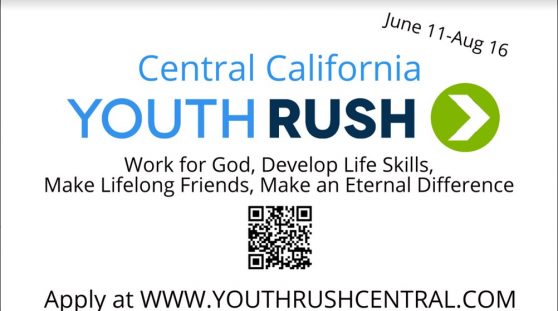 Annual Prayer Walk Weekend
July 7th & 8th
We are looking forward to a Holy Spirit filled weekend with lots of praying, testimonies, praise, and prayer walking, to begin your Campmeeting experience.
For the Prayer Walk Weekend, please register with Pat Curtis, at (559) 642-2396 or email 2patcurtis@gmail.com by June 30th. 
Soquel Camp Meeting
July 13-22, 2023
Online registration is now open.
To secure your site, please visit cccadventist.org/campmeeting and complete your registration.