FRESNO CENTRAL
SEVENTH-DAY ADVENTIST CHURCH
March 25th, 2023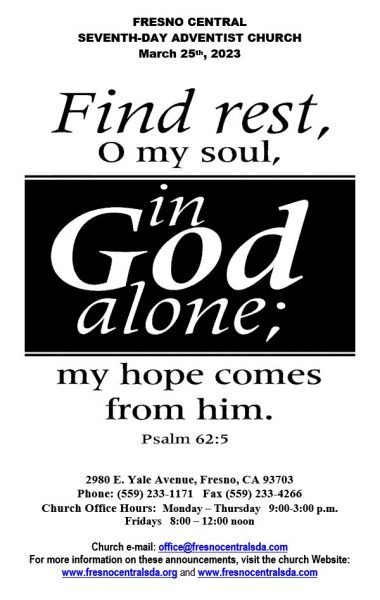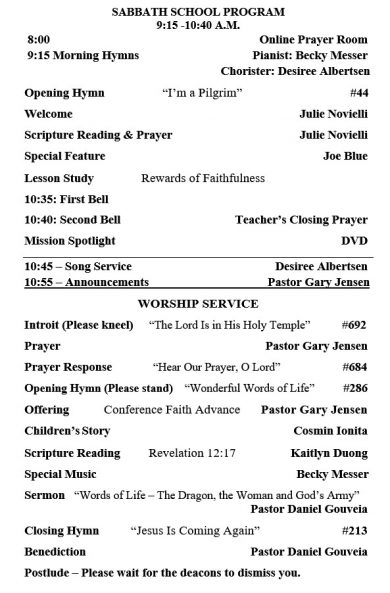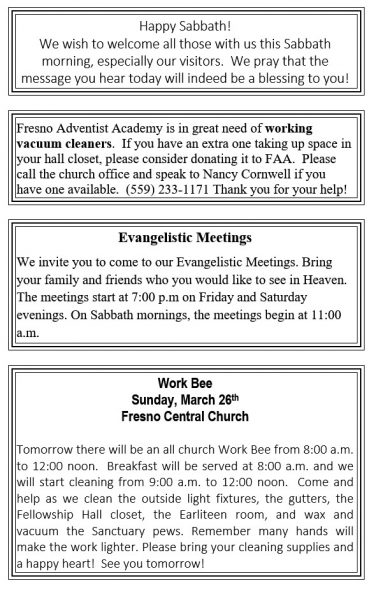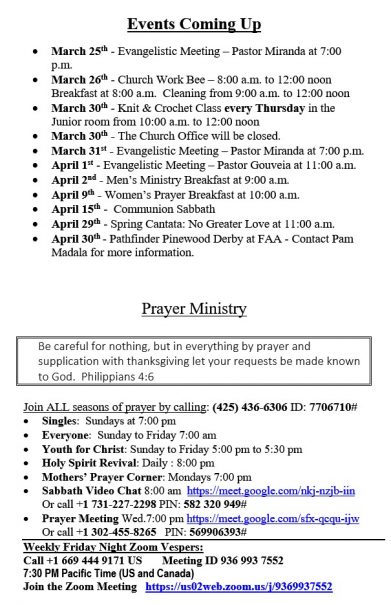 Fresno Central Seventh-day Adventist Church
2980 E. Yale Avenue, Fresno, CA 93703
(559) 233-1171 ~ Fax (559) 233-4266 ~
Church Office Hours: Monday - Thursday  9-3 p.m.  Fridays 8-12 noon.
Church e-mail: office@fresnocentralsda.com
Senior Pastor:  Daniel Gouveia (pastordaniel@fresnocentralsda.org)
Associate Pastor: Daniel Miranda (pastormiranda@fresnocentralsda.org)
Church Clerk: churchclerk@fresnocentralsda.com
Church Website:
 www.fresnocentralsda.org
and
Call +1 669 444 9171 US       Meeting ID 936 993 7552
7:30 PM Pacific Time (US and Canada)
Join the Zoom Meeting   https://us02web.zoom.us/j/9369937552
Weekly Friday Night Zoom Vespers: 
Call +1 669 444 9171 US       Meeting ID 936 993 7552
7:30 PM Pacific Time (US and Canada
Men's Thursday evening Bible Study  - Fellowship Hall
March

    

Each Friday evening, Sabbath Morning, and Saturday Evening FCC will present, by several speakers an Evangelistic

Campaign
Potluck this Sabbath.

Choir Practice 1:30PM, in the Choir Room

Cantata Practice 2:30PM,
March 26    FCC Work Bee    8AM for breakfast, 9AM – 12PM Work Bee
April

April 30      Pathfinder Pinewood Derby at FAA
 "Don't forget your donation to Liberty magazine. This can be put in a tithe envelope or the tear off envelope in the Religious Liberty brochure that is on the Personal Ministries counter. Subscriptions are $7.00 each." 

Spring Cantata 
A cantata is being planned for Fresno Central as well as a couple other churches this coming April.  Rehearsals will each Sabbath, at 2:30pm usually in the sanctuary.  If you would like to join the choir or orchestra, please come to the rehearsal.  For more information, see Yolanda Leamon or email Rodney Laurel at rclaurel@gmail.com.
We will be taking pictures for the Church Directory the next couple of Sabbaths. Please contact Pam Madala and/or Terri Duran to take your picture. 
_____________________________________________________________________________________________________________________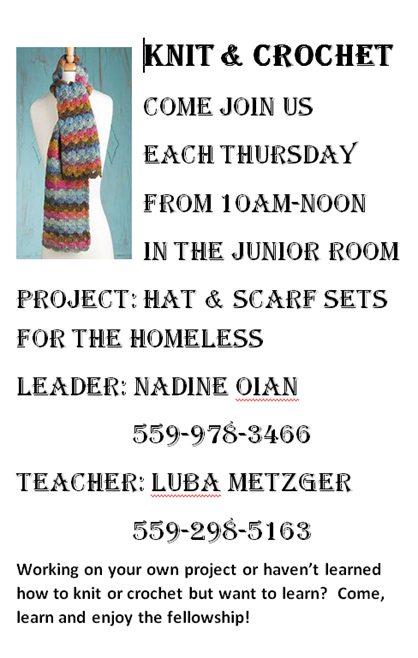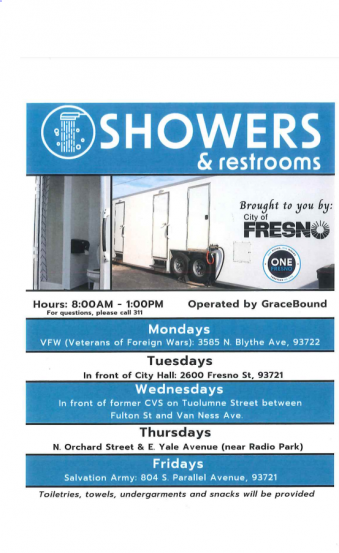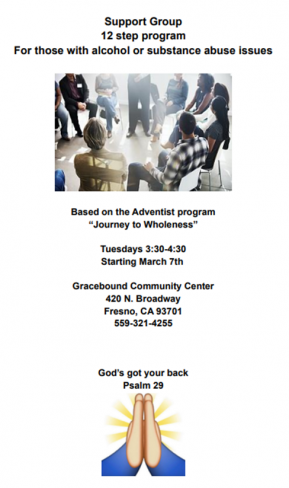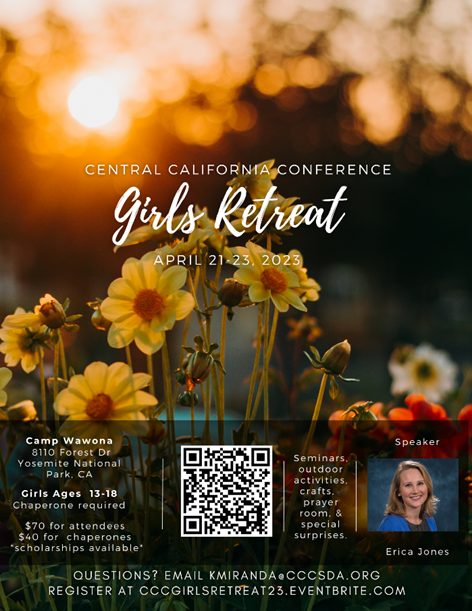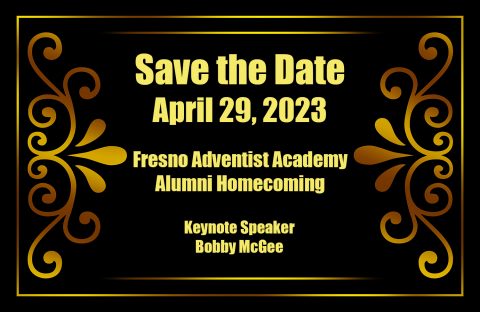 ___________________________________________________
Click here for the online Sabbath School Quarterly.
---
---
Be careful for nothing, but in everything by prayer and supplication with thanksgiving let your requests be made known to God.  Philippians 4:6
Join ALL seasons of prayer by calling:   425-436 6306  and enter ID: 7706710#
Everyone:  Sunday to Friday 7:00 am
Youth for Christ: Sunday to Friday 5:00 pm to 5:30 pm
Holy Spirit Revival: Daily : 8:00 pm
Singles:  Sundays at 7:00 pm
Mothers' Prayer: Mondays 7:00 pm
Sabbath Prayer Video Chat 8:00 am  https://meet.google.com/nkj-nzjb-iin
Prayer Meeting Online: Wed.7:00 pm https://meet.google.com/sfx-qcqu-ijw Or call +1 302-455-8265   PIN: 569906393#
We have so much to be Thankful for!
·

      
Sam Barron and Cheryl Davis are healing following their surgeries.
·

      
Traveling Mercies
·

      
Newborn, Penelope (born with one kidney) now doing well.
·

      
Pam's Sister, Jane – Cancer free.
·      Surgery's this week: Juan Rizo.
·       Austin Greer and The Andrews Theology group in Cuba.
·       Issa Family Dog.
·       Esther Castellanos, in a coma
·       Passing of Dorcas Quisido, 90 Years Old – Family of Judy Osena
·       22 Y/O Gianni had been missing for 3 days; found passed away.
·       Frankito Family
·       Carla finishing school and looking for a job. Congratulations Carla for school completion.
·       All those who are affected by the rain and flooding this weekend.
·       For those requesting Bible Studies.
·       March Evangelistic Series and Prayer Vigil.
·       Holy Spirit       Bible Studies
·       Traveling mercies.
·       Our Church   Marriages      Children      Families
·       FAA        Pathfinder Club     Community Center
·       Our nation; and the people around the world.
·       Private requests *****
Barron, Cervantes, Critser,

 

Knnablian, Lewis, Melnichuk, Montez, Watson.
Lilia,  Doris Bachez,  Scott Bear, Carl Frankito, Sulianne Gouveia; Dana Grassi with cancer; MaryAnn Jackman, Susan Jensen (Cancer); Sandra Manro;  Linda Matlock; Earl Meyers, Al Montez, Jovonne Perrin, Jan Reynolds, Kim Saenz, Scott Stovall; Lisa Strother's sister, Karen; Patti Tobar,  Noreen Voge, Jacob & Zena Volkov, Gabriel Watson. 
·
SUMTV Radio is now on Alexa. 
Easily share SUMTV Radio programs with your neighbors who have Alexa in their homes or on their cell phones. Both stations are now available.
Watch SUMTV on free-to-air TV
SUMtv is available on the air using an antenna for those who watch TV that way.
Watch SUMTV on free-to-air TV:
Channel 7.10 - English
Channel 7.11 - Spanish
or on SUMTV.ORG online.