Camp Meeting:
Coming to Camp Meeting and would like to hang out with other Adventist Singles for lunch?  Join us, we are having a Sabbath lunch potluck in front of Cabin #25 on both Sabbaths after church service.  Singles are welcome to come join us.  Please bring a chair, sun protection and a ready-to-eat potluck dish to share for 10 people.  Contact Karen W. for more information.
---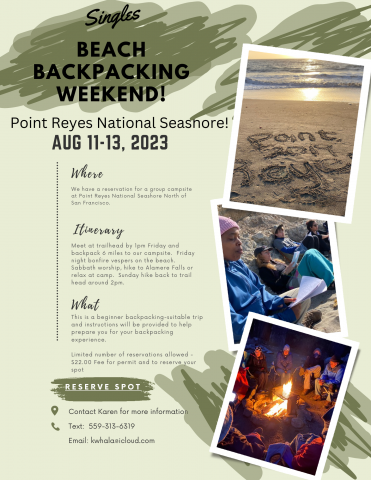 Future Events (not guaranteed - pending permits and interest)
and for other Events...Stay Tuned or reach out if you have ideas or activities you would like to share...
Browse our photo collection of a few events over the years..
About Us 
We are a growing group of Adventist Adult Singles (divorced, never married, single parents, widowed) 30ish+ who desire friendship with other Adventists who share the same life stage and want an opportunity to fellowship together and build bonds of friendship. 
 
About Me
I found myself divorced in 2012 and needing true friends who shared my faith and lifestage as newly single and divorced.  I wanted friends to hang out with, do service activities with and enjoy nature with that shared my lifestage.  This has helped with feelings of loneliness and perhaps an unhealthy desire to rush into another relationship or  forming friendships with those outside our faith.  I have discovered that I LOVE planning and participating in small to large activities that help build these friendships.  I appreciate all those who help make this group possible!

 
Phil 4:11-13


"

I am not saying this because I am in need, for I have learned to be content whatever the circumstances. 12 I know what it is to be in need, and I know what it is to have plenty. I have learned the secret of being content in any and every situation, whether well fed or hungry, whether living in plenty or in want. 13 I can do all this through Him who gives me strength".