Fresno Central Prayer Ministry has established a Prayer Line and we are inviting all prayer intercessors, to join us in our Seasons of Prayer every day at different times. See the schedule on the right.
May God bless you and encourage you to be part of this initiative.
A new group will join our prayer line starting April 25th!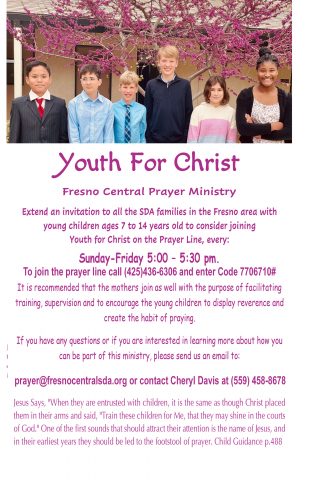 To connect, please follow these instructions:
A united front in prayer can defeat the Devil!

Call by phone: (425) 436-6306

Access Code: 7706710#

Sundays to Fridays:

7:00 am, Prayer Team Sessions

5:00 to 5:30pm, Youth Prayer

Mondays

7:00 pm, Mothers' Prayer sessions.

Every Evening 8:30 pm,

Holy Spirit Revival, with Peter Nicholas

You may also join the Prayer Team in video chat

on Sabbaths at 8:00 am

Click on this Meet Link:

Or Call In By Phone:

1 731-227-2298

then enter this Pin:

582 320 949#

​

​
Let us know if you want somebody to contact you and pray with you.
---
---